If you love pizza but want to change things up, you have to make Pizza Cones! They are SUCH a fun appetizer for all ages! And don't worry, they're easier than they look and can even be made ahead of time. All you need is a can of Pillsbury Crescent Dough, some aluminum foil and a waffle ice cream cone to form the shape. NO cone molds are required!
If you love pizza, you have to try my easy Cheesy Pizza Dippers!
Make these pizza cones and I guarantee friends and family will RAVE for hours. Plus, there will be none leftover. NONE.
They like a pizza, stromboli and a calzone all in ONE yummy handheld bite!
But unlike other recipes where you need a cone mold or pizza kit to make your pizza 'CONE', this recipe does NOT need them!
All you need is a some tinfoil and ONE waffle cone!
I love serving them at a football tailgate or pizza party!
🛒 Ingredients
Pillsbury pizza dough- Premade dough in a can that can be found anywhere and it's so easy to use! You can also use homemade pizza dough.
Riccotta cheese- Whole fat ricotta is my recommendation.
Mozzarella cheese- Freshly shredded is best.
Parmesan Cheese- Grated is best.
Spices: Garlic & onion powder
Pepperoni (optional)
👨‍🍳 How To Make Pizza Cones
Know that your "pizza cones" can be made a few different ways but I found these to be the best combination of pizza flavors.
Step 1: Cut your pizza dough into strips that are about ¾" wide and about 9" long.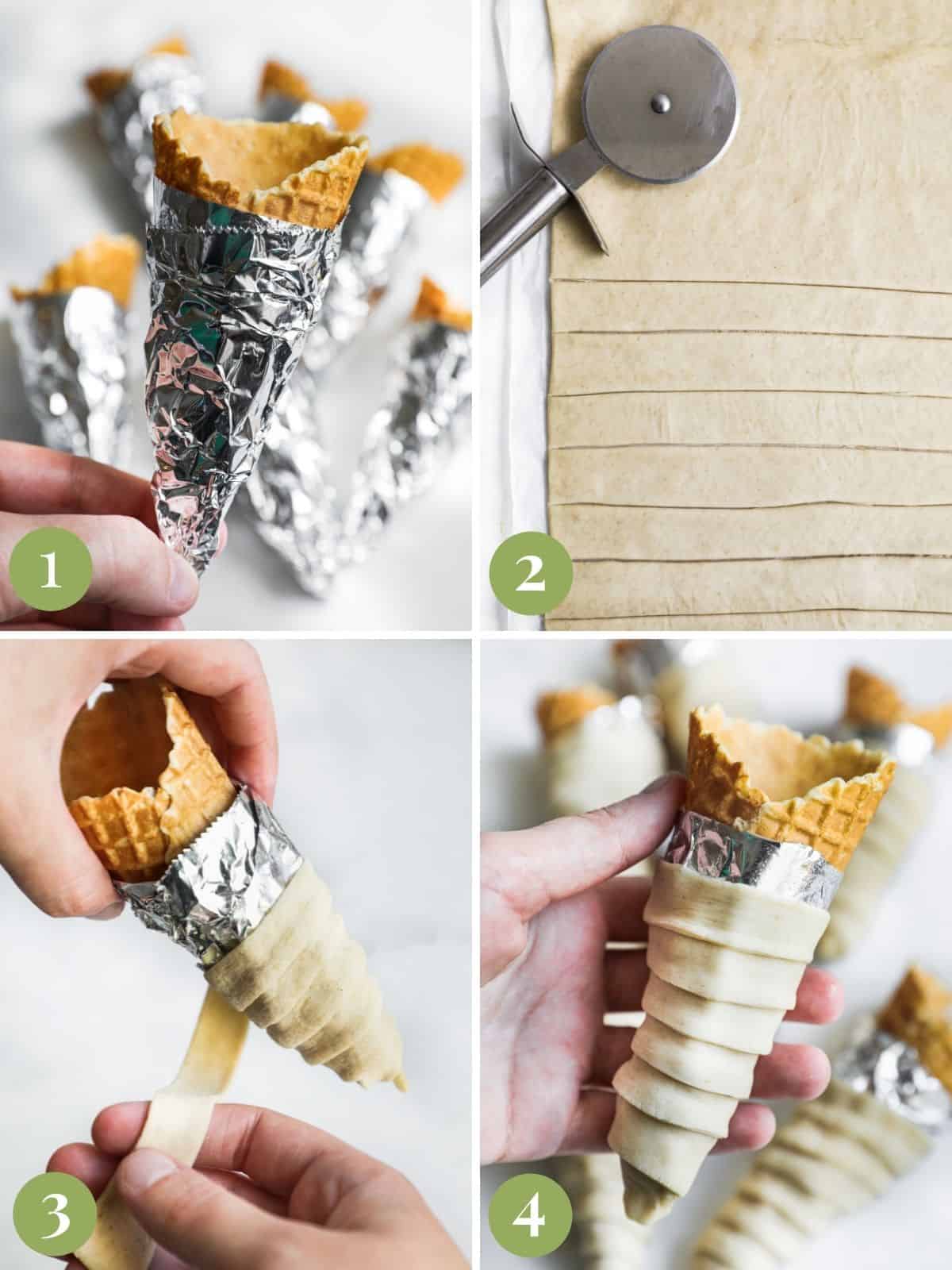 Step 2: Use your sugar cone as a mold and wrap a piece of tin foil around it so that the entire piece covers the cone entirely. If you need to use another piece on top of it, you can. Press the tin foil firmly so it tightly shapes into a cone.
Step 3: Remove the tin foil from the cone and set aside. Repeat 6 more times. You should have 7 total tin foil cone molds.
Step 4: Wrap one long strand of pizza dough around each foil cone starting at the bottom going UP. Your dough should slightly overlap as you wrap it. Make sure to pinch the dough around the bottom of the cone to close up the hole! (see photo)
Step 5: Lay your finished cones onto a baking sheet lined with parchment paper and bake for 7-8 minutes at 400 degrees F. When slightly cooled, pull out tin foil and fill with whatever you desire! (See recipe below for stuffed pizza cones!)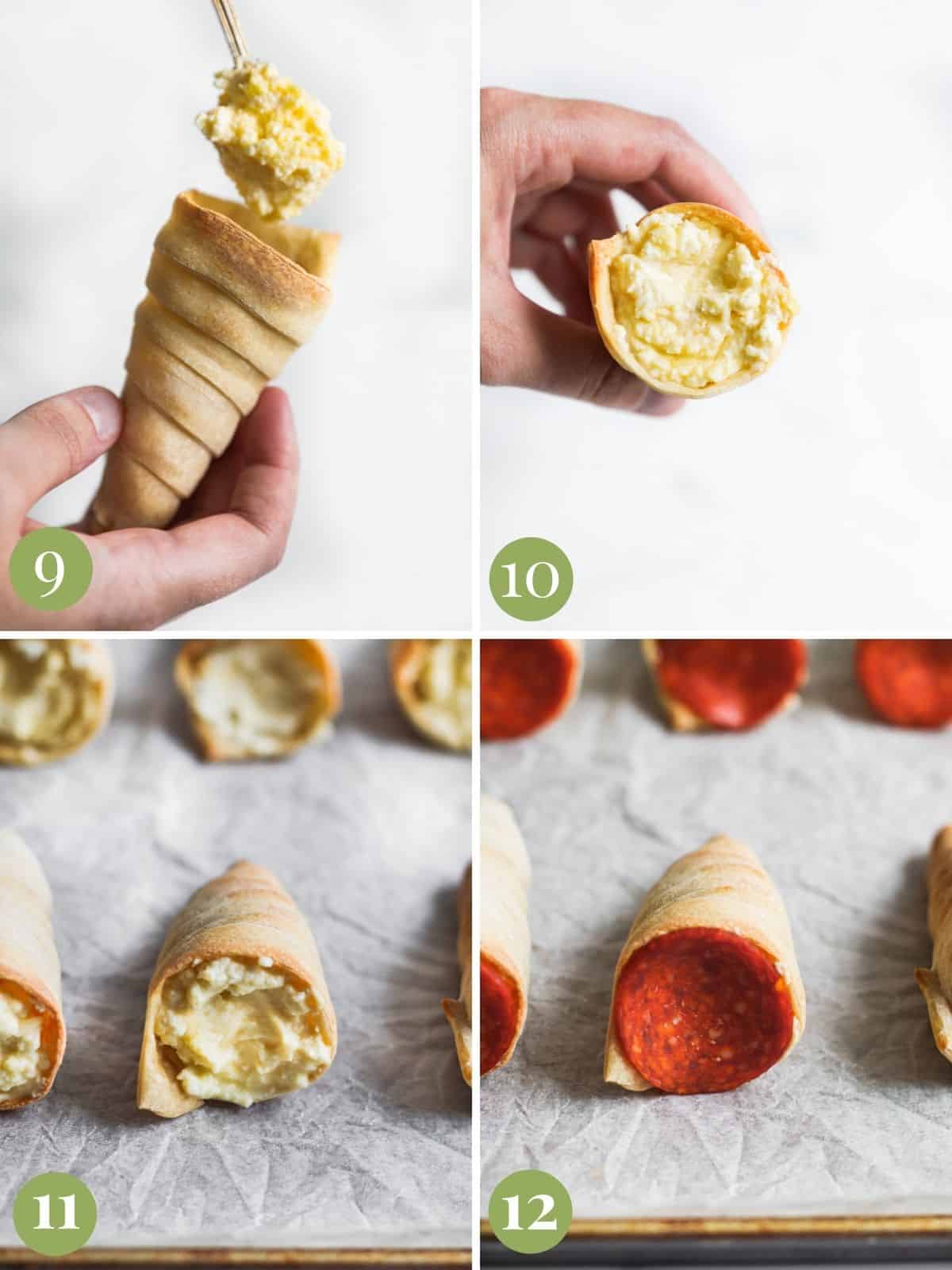 🍕 Pizza Dough
When it comes to making your own pizza dough, these pizza cones would take much longer to prepare which is why I use Pillsbury's canned dough. It's already rolled out to the proper thickness and shaped into a rectangle.
Here are your dough options:
Make your own homemade pizza dough
Purchase dough from a local pizza shop.
Check the freezer aisle for frozen dough.
Use Pillsbury refrigerated pizza dough.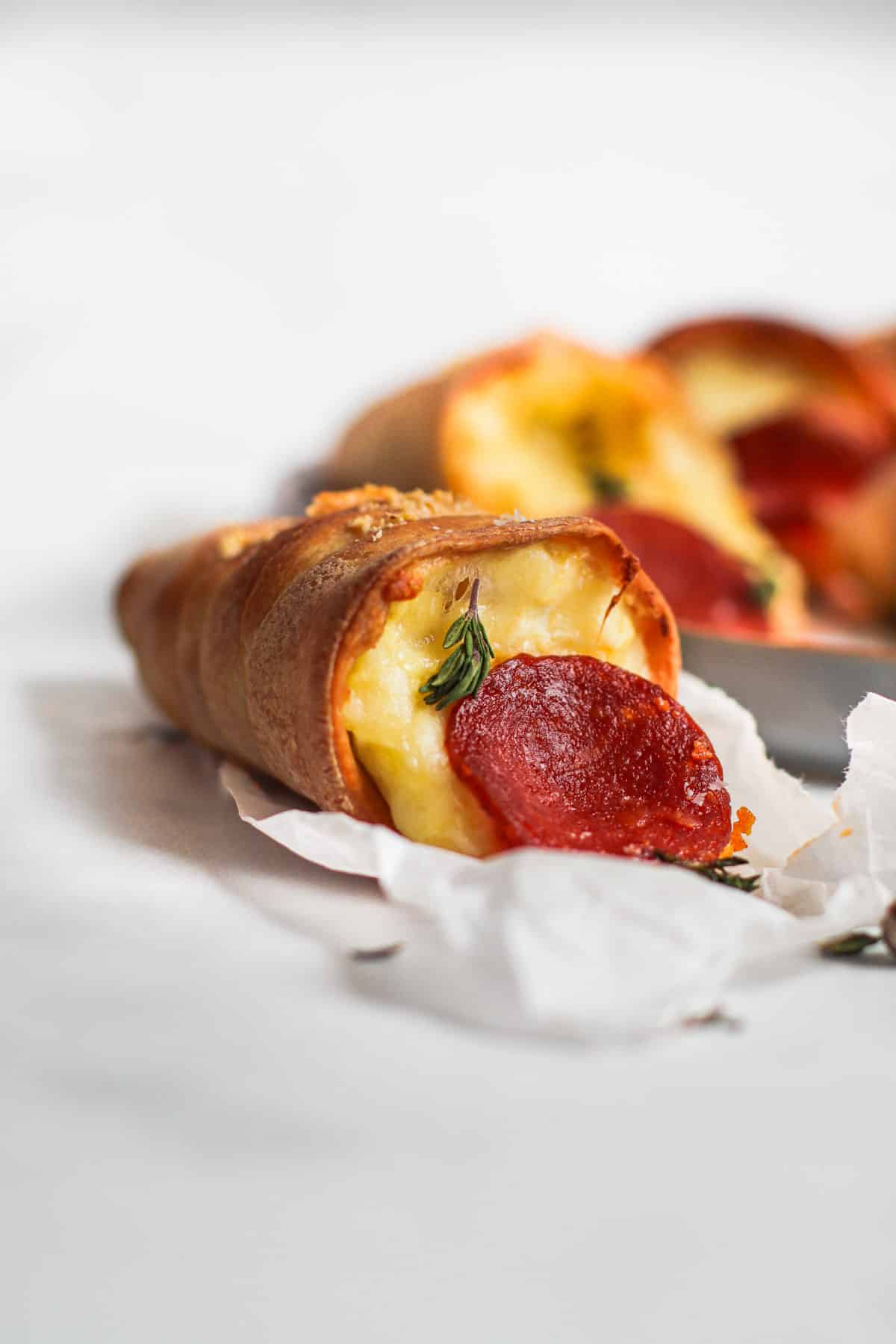 🍽️ How To Serve Your Pizza Cones
Serving cones filled with cheese can be a little tricky!
Lay them on a plate: You can simply lay your cones down on a plate but know that the some of the cheese will ooze out. NOT a bad thing.
Use a cone holder: If you want to purchase a cone holder, it can take your presentation to the next level and allow the cheese to stay inside!
These cone holders are great for serving food upright!
How To Make These Ahead Of Time and FREEZE Them
If your like me, you'll want to make these as far in advance as possible. I recommend, forming and baking the pizza cones the night or a few days before the party. Then, FREEZE your cones by covering them again with tin foil and then placing them in a large freezer bag.
You can also make your filling 2-3 days ahead of time. Just mix it up and place it in the piping bag (or ziploc bag) and store in the fridge.
Then, when you want to fill them, pull them out to defrost. (This shouldn't take long.) Then fill the cones with the ricotta and pepperoni filling and place in the oven for another 5 minutes to reheat and melt the cheese.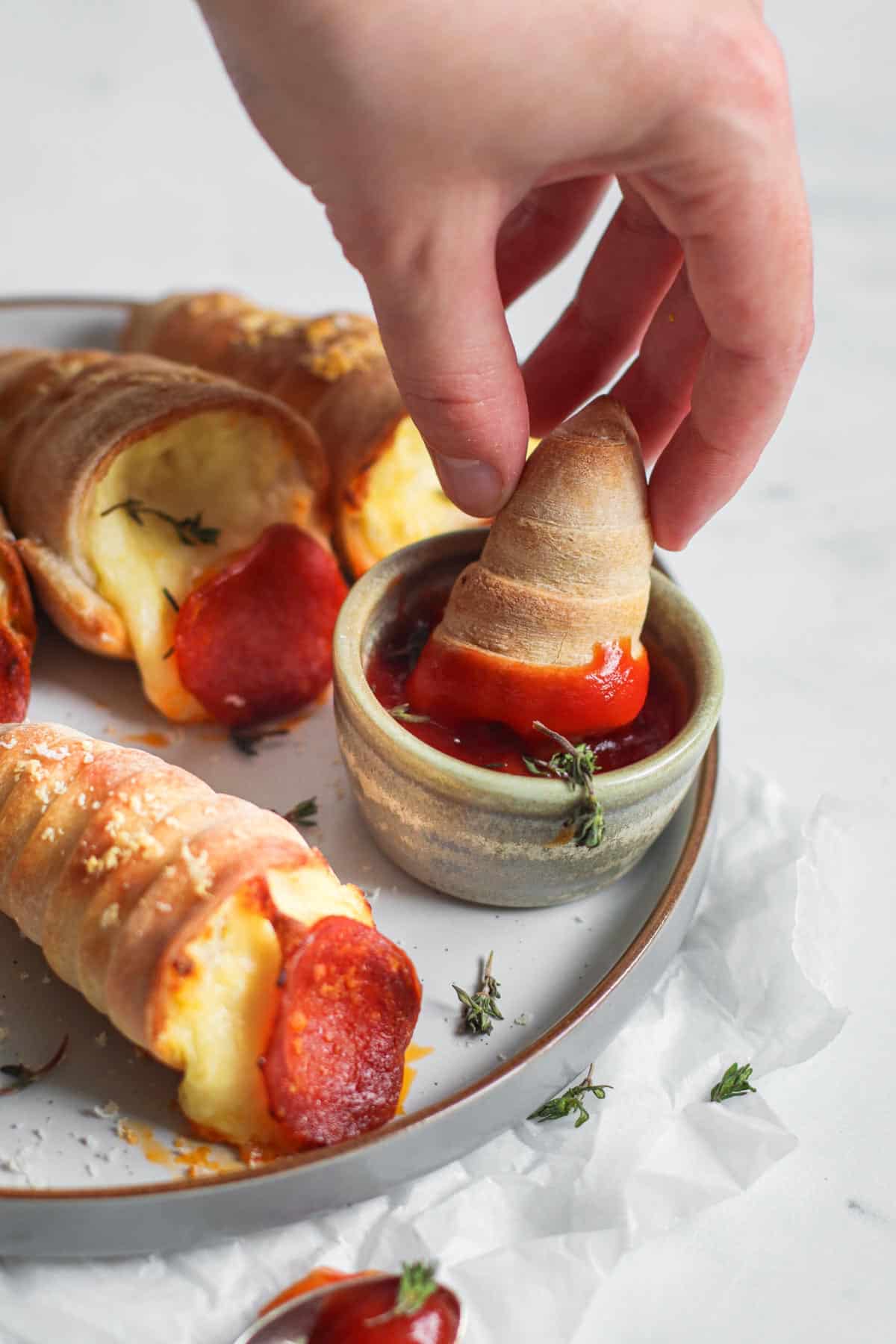 ⁉️FAQ's
My tin foil isn't coming out of the cone. Help!
It WILL come out. Just squeeze the foil, twist and pull it out.
How long will these keep for?
They will last in the fridge for a few days! Treat it like a pizza!
Here are some other fun party appetizers you may like!
51 Football Party Finger Foods Your Guests Will LOVE
How To Make Chicken Lollipop Wings
📽 If you love entertaining at home, subscribe to my YouTube channel!!
---
📖 Recipe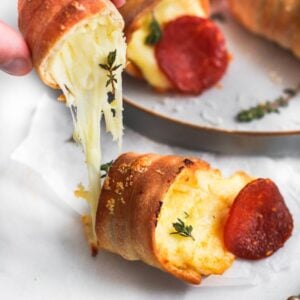 How To Make Pizza Cones (with Pepperoni and Ricotta)
These Easy Pepperoni Pizza Cones are a fun party appetizer! Stuffed with three cheeses and pepperoni, your guests will RAVE over these!
Print
Pin
Rate
Ingredients
1

13.8 oz

Tube Pillsbury Classic Pizza Crust

((or homemade pizza dough))
Pizza Cone Filling
½

Cup

Ricotta Cheese

½

Cup

Mozzarella Cheese (grated)

1

tablespoon

Parmesan Cheese

3

oz.

Pepperoni

⅛

Tsp.

Garlic Powder

⅛

Tsp.

Onion Powder

⅛

Tsp.

Salt

1

Large

Egg

Tomato Sauce For Dipping

1

Waffle Cone + Tin Foil (for making cone molds)
Instructions
Using your sugar cone mold, wrap 1-2 pieces of tin foil around ¾ of the cone and press firmly. The foil should form a tight mold that is sturdy when pulled off. Repeat 6 more times until you have 7 foil cone molds. Set aside.

Unroll your Pillsbury crust dough. (If using homemade dough, roll your dough out ¼" thick.) Using a pizza cutter, cut ½" strips of dough. I was able to get 7 strips.

Lightly spray or brush the outside of the foil with cooking spray so the dough is easy to remove from the foil. Then wrap the strand of dough around the foil cone starting from the bottom working your way up. Make sure the dough slightly overlaps as your wrap the cone so it sticks to itself! Seal the bottom of the cone by pinching the hole closed with your fingers.

Place entire wrapped cone with foil onto a non-stick baking sheet or one lined with parchment paper. Repeat until all pizza cones are finished. (you should get about about 7)

Bake cones for 7-8 minutes or until they are lightly browned.

Chop your pepperoni slices leaving 7 whole slices aside. Add the sliced pepperoni and other filling ingredients to a bowl and mix.

When cones are ready, allow to cool slightly and carefully remove tin foil from inside of each cone by squeezing the foil closed. They should slide out easily.

Using a small spoon or mini ice cream scoop, fill each cone with filling all the way up. Seal each cone up by placing one pepperoni slice on top. Bake another 5-6 minutes until golden brown and melted. Serve warm with tomato sauce on the side!
Recipe Notes
This recipe yields 7 pizza cones.
You can bake your cones ahead of time and freeze them. Just re-wrap with tin foil and place in a ziploc bag. Then take them out the day of and allow to defrost before filling. Bake for 5-7 minutes and serve warm!
Nutrition
Serving:
1
cones
|
Calories:
454
kcal
|
Carbohydrates:
24.7
g
|
Protein:
14
g
|
Fat:
32.8
g
|
Saturated Fat:
10.2
g
|
Cholesterol:
65
mg
|
Sodium:
859
mg
|
Potassium:
145
mg
|
Fiber:
1.9
g
|
Sugar:
0.2
g
|
Calcium:
91
mg
|
Iron:
2
mg