These super easy Fruit Sticks are like fruit fries! Crunchy bites of melon with a creamy coconut dip takes your average fruit platter to the next level!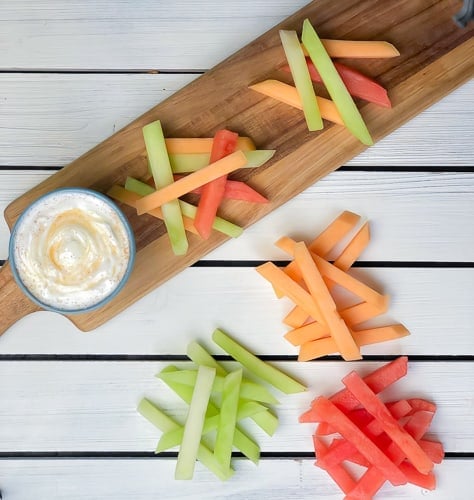 Fruit platters have been served at parties for years! And I don't know about you, but they are a bit meh lately.
They always seem so bulky and are a bit difficult at times to pick up to eat, even with a fork.
Fruit fries turn your boring fruit platter into one that is SO much more appealing!
They're unique shape just make eating fruit SO much more fun! And the fact that you do not need a fork (or plate) to enjoy these is a bonus!
For my melon 'dippers', I used honey dew, cantaloupe and watermelon. The hardest part is cutting the fruit up into sticks but having a good knife helps a lot!
I cut my melon into sticks for FUN snacking and easy dipping! These fruits are the easiest to cut up so you could use them all or just a few. Think about the colors you want to use before choosing! The more the better!
Fruit That Can Easily Be Cut Into Sticks
Not ALL fruit can be cut into sticks. These are the ones that work best:
Cantaloupe
Honeydew melon
Watermelon
Pineapple
Mango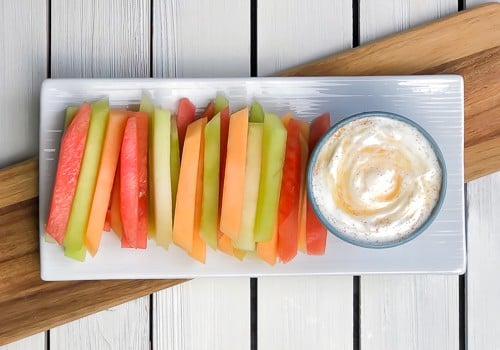 How To Cut Your Fruit Fries Into Sticks
Okay, so this is the toughest part!
And I am not going to lie, it takes some time but the more meticulous you are, you better your presentation will look!
So I chose to use only melons because they are the largest fruits and can be made into longer sticks easily. Choose whichever of these fruits you like!
The good thing is, you will have plenty of fruit to work with so if you mess up, just save the discarded fruit for snacking yourself the next day or freeze it for a smoothie or frozen drink!
Since melons are spherical, you want to turn them into a CUBE. To do this, cut the melon in half first. Then place the melon cut-side down. Trim off the skin. (This is where the good knife comes in handy!)
Now you should have a half of melon completely ready to cut. You want to shave the melon on all 5 rounds sides so you have a flat edge on each. It should look like a large cube when your done!
Once you have your cube, the hard part is done! Cut in half again, then again. Start slicing your sticks about ½" wide on each side. There is no right or wrong size. You be the judge! I just would not go longer than 4" so they do not break in half.
Save the excess in a large plastic baggie and freeze for a melon smoothie!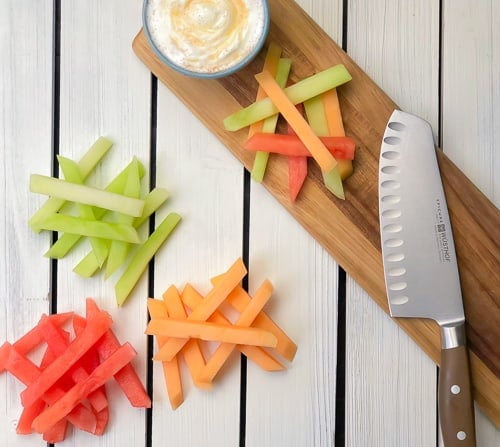 Coconut Greek Yogurt Dip (with honey)
A super healthy fruit dip that is easy to make! Made with Greek yogurt of course! This is the only yogurt I buy. The consistency is everything. Thick and creamy. The way yogurt should be.
Also, since coconut milk has a thinner consistency, mixing the two together, will thin out the yogurt a bit anyway so you want to start with the thickest yogurt you can find!
Keep in mind, if you do not use Greek yogurt, your dip may be more runny than you'd like. Adding cinnamon, vanilla and toasted coconut make this dip even tastier.
In Greece, they often will serve yogurt with honey drizzled on top for breakfast so if you purchased plain yogurt, it is a great way to naturally sweeten it up!
Serving Your Fruit Sticks
I think the sticks look best displayed on a long or circular plate. If your using a circular plate, place the yogurt dip in a small bowl IN THE CENTER. Then fan out the sticks around the dip!
Don't forget to check out my other sweet party snacks!
Some other party snacks you might like:
Grilled Pineapple Spears with Jalapeno Honey Glaze
Healthy Peanut Butter Oat Energy Bites
Chocolate Covered Banana Walnut Bites
---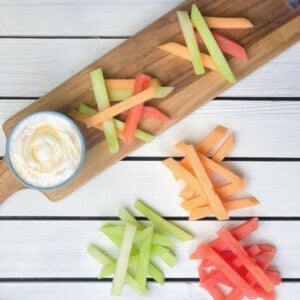 Fruit Sticks w/ Coconut Greek Yogurt Honey Dip
These super easy Fruit Sticks With Coconut Yogurt Dip are fun AND healthy! Crunchy bites of fruit with a creamy coconut dip takes your average fruit platter to the next level!
Print
Pin
Rate
Ingredients
1

Small

Seedless Watermelon

1

Small

Honeydew Melon

1

Small

Cantelope
Coconut Yogurt Dip
1

Cup

Greek Yogurt

½

Cup

Coconut Milk

¼

Cup

Toasted Shredded Coconut

((Unsweetened))

2

tablespoon

Honey

½

Tsp.

Cinnamon

⅛

Tsp.

Vanilla Extract
Instructions
Combine ingredients for coconut yogurt dip in bowl and set aside.

Cut fruit into sticks that are 3-4" long. See photos to see how I did it. Note, the sticks don't all need to be the exact same length but it looks neater. Save excess fruit for snacking or freeze it for smoothies!

Serve as a platter with dip on the side!
Recipe Notes
Party Tips*
If you do not have clear shot glasses, you can buy clear plastic drinking cups to serve these in OR just spread onto a large serving dish with the dip in the center.
Note! The size of your sticks should be no shorter than the height of your shot glass so they can be dipped easily.
Use a plastic bag or piping bag to fill the glasses without making a mess!
Nutrition
Serving:
10
sticks
|
Calories:
281
kcal
|
Carbohydrates:
18.3
g
|
Protein:
29.4
g
|
Fat:
11.3
g
|
Saturated Fat:
9.3
g
|
Cholesterol:
13
mg
|
Sodium:
137
mg
|
Potassium:
1124
mg
|
Fiber:
3.2
g
|
Sugar:
41.1
g
|
Calcium:
296
mg
|
Iron:
1
mg