Chicken liver Pâté is a delicious and nutritious appetizer that is perfect for any occasion. This recipe is simple to follow and takes LESS THAN 30 MINUTES to prepare. Plus, it's affordable and full of nutrients!
If you're looking for a new way to enjoy chicken liver or are trying it for the first time, then this recipe is definitely worth testing out!
What is Pâté & What's It Made Of?
Pâté can be a paste, pie or loaf that is typically made from liver, fish, poultry, pork or other organs. It is seasoned and pureed with other ingredients to create a forcemeat.
Pate is often served with fresh bread, mini crostini or crackers and can be enjoyed as an appetizer, main course, or simpy as an ingredient in many main dishes.
Pate can be smooth or chunky in texture and is packed with a lot of healthy vitamins and nutrients.
It's important to understand that there are MANY different kinds of pate out there so there is no right or wrong way to make it.
How To Eat Pate
Pate can be enjoyed in many different ways both cold and warm. It can be spread on bread or crackers, used as a filling for sandwiches or wraps, or even eaten straight from the spoon!
Pate is also a common ingredient in many dishes such as pies, pastries, and terrines.
Pate would be a delicious appetizer to serve at your next Blind Wine Tasting Party!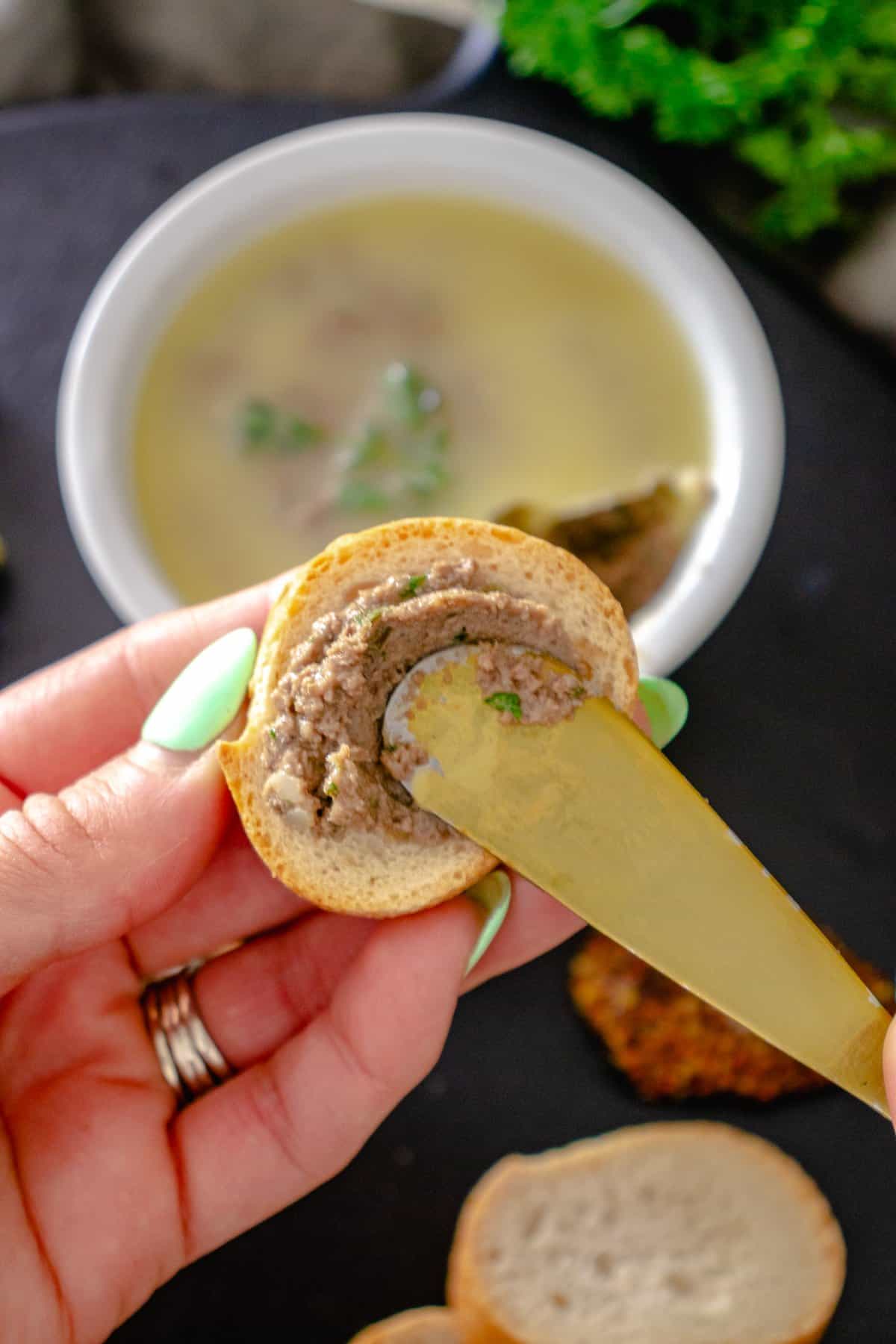 What Does Pate Mean?
Pate is a French word that comes from the Latin word patella, which means "small dish." Pate can also be used to refer to the paste or dough of certain foods such as pies and pastries.
Serve this pate at your next Tea Party or Wine Tasting Party.
How Long Does Pate Last?
Pate will last in the fridge for up to two weeks, or in the freezer for up to six months. When storing pate, be sure to keep it in an airtight container or seal the top with plastic wrap to prevent it from drying out.
Is All Pâté Made From Liver?
No, pate can be made from fish, poultry, or vegetables. The liver is the most common ingredient in pate, but other organs such as the kidney and heart can also be used.
What are some popular pâté recipes?
Some popular pate recipes include: chicken liver pate, duck liver pate, foie gras pate, and vegetable pate.
Ingredients
Chicken Livers- They can be hard to find but ask your butcher. Sometimes they come frozen so check the frozen food aisle as well as the meat section.
Sausage- I used a sweet sausage but you can use spicy if you prefer.
Fresh Herbs- Sage, rosemary, thyme and parsley are my go-tos.
Sherry Wine- This adds some needed acidity.
Butter- A big component of pate.
Onion- Yellow or white.
Garlic- Fresh is best.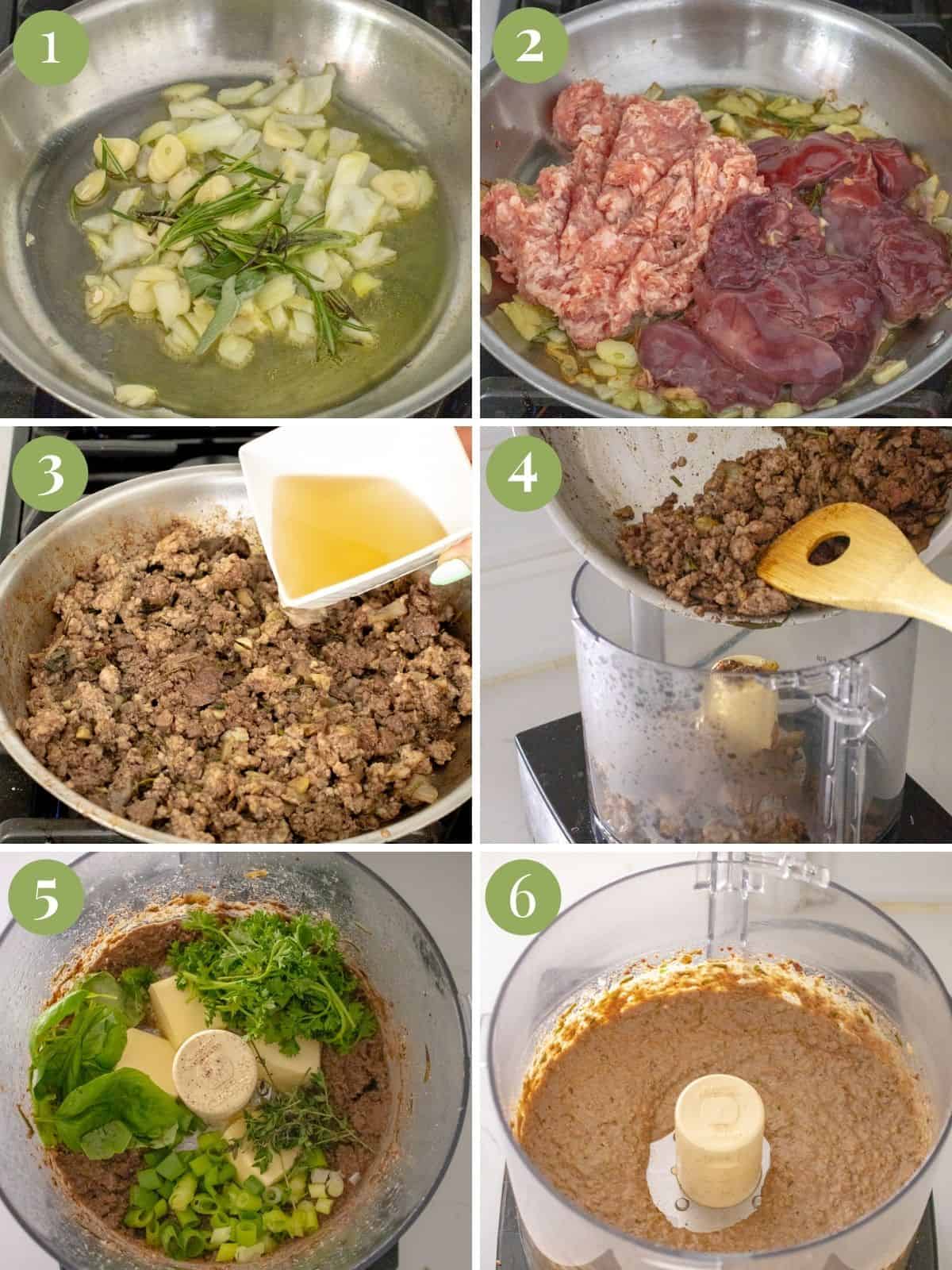 How To Make Liver Pate
Step 1: Add your onions, garlic, herbs, oil to a saute pan over medium low heat.
Step 2: After 8-10 minutes add in your sausage and chicken livers and saute until the inside is no longer pink. Saute another 7-8 minutes.
Step 3: Add your sherry wine and add simmer for 1 minute.
Step 4: Take off heat and add to a food processor. Puree for 20-30 seconds or until it's fully blended.
Step 5: Add in your butter, parsley and scallions. Puree again until smooth.
Step 6: Add pate to a small ramekin or bowl. Eat warm or chill in the fridge until ready to eat.
📃 NOTE: Recipe card with exact quantities and detailed instructions are below! Print it out for later!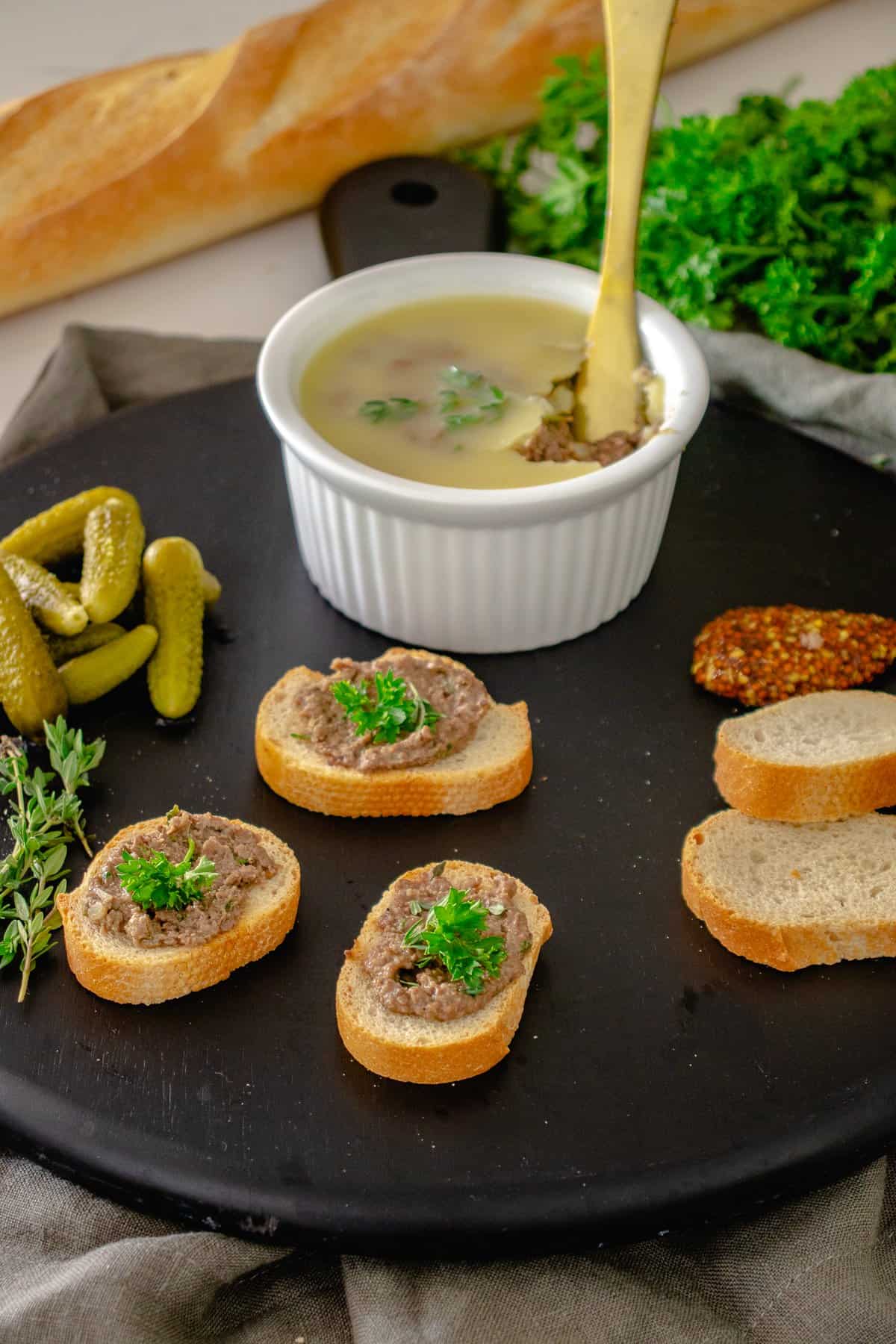 How Long Does Pate Last?
Most pate lasts between 3-4 days in the fridge. With clarified butter on top to seal it, it can last up to a week.
Freeze tightly covered in a freezer-safe container for up to 3 months.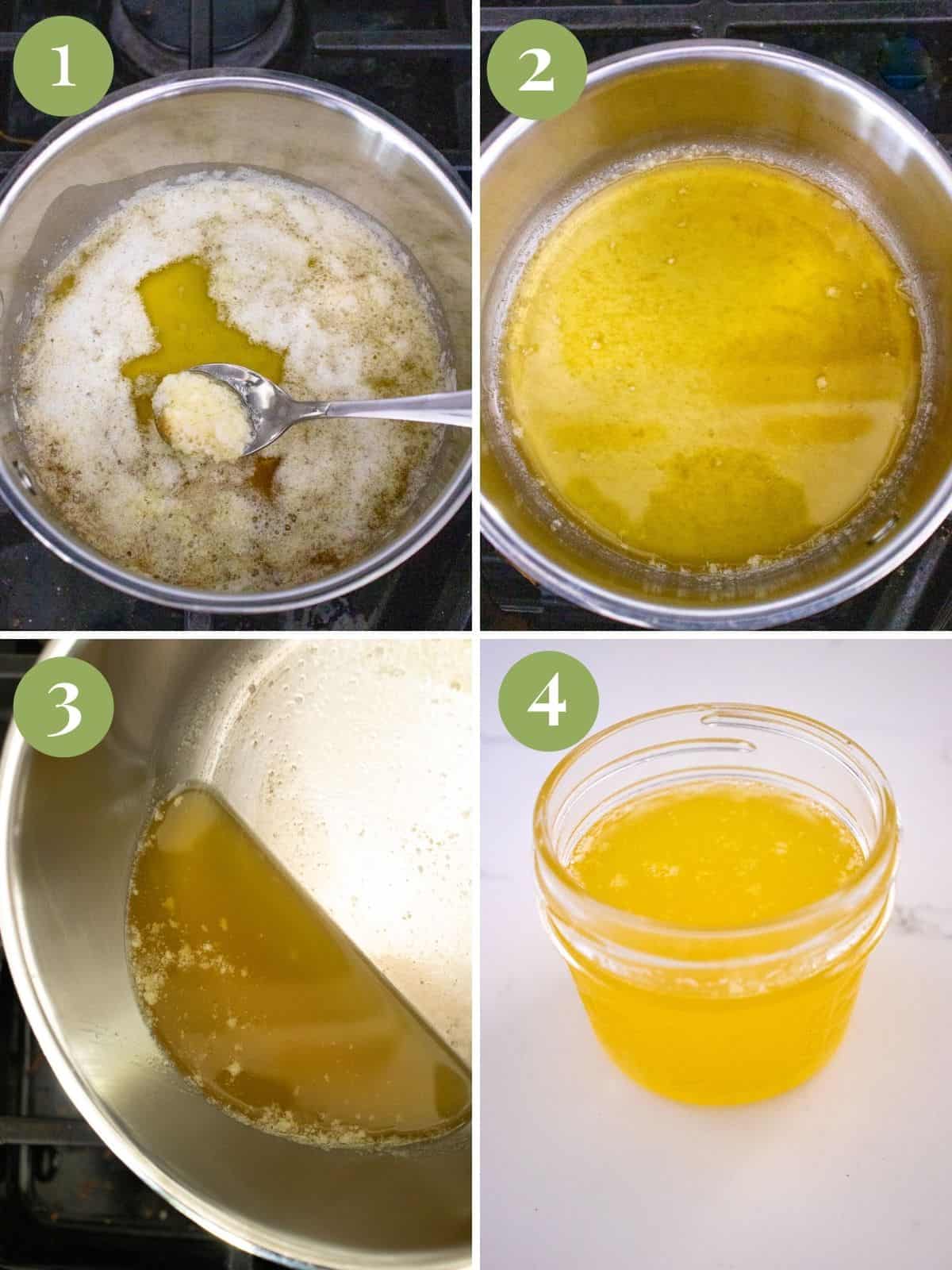 Making The Clarified Butter Seal
Adding a thin layer of clarified butter to the top of your pate will do two things.
Lengthen the shelf life if your pate.
Provide a more beautiful presentation.
It's not required but is a simple thing to do that goes a long way.
What To Serve With Pate?
You can serve many things with pate.
The most common things are:
French baguette
cornichons or any pickles
whole grain mustard
semi-hard to hard cheeses like gouda or gruyere
grilled vegetables
capers
Pate Variations/Substitutions
Feel free to use any fresh herbs you like. Sage, bay leaves and chives would also be delicious additions.
Swap out the sausage with more liver if you prefer.
Replace the sherry with cognac or brandy for a different flavor.
Use spicy sausage for a pate with some heat.
Other Types of Pate
Pâté de Foie Gras
Other appetizers to serve with pate:
How To Make A Salami Rose (For Charcuterie Boards)
📽 If you love entertaining at home, subscribe to my YouTube channel!!
📖 Recipe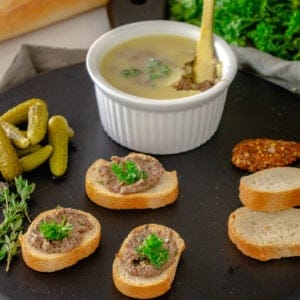 An Easy & Delicious Liver Pâté
Chicken liver Pâté is a delicious and nutritious appetizer that is perfect for any occasion. This recipe is simple to follow and takes LESS THAN 30 MINUTES to prepare. Plus, it's affordable and full of nutrients!
Print
Pin
Rate
Ingredients
½

medium

yellow onion, chopped

3-4

whole

garlic cloves

8

oz.

chicken livers

8

oz.

ground pork

2-3

sprigs

fresh thyme

1

sprig

fresh rosemary

⅓

cup

sherry wine

2

teaspoons

freshly minced parsley

((small handful))

2

scallions

10

tablespoons

unsalted butter

1

teaspoon

salt

freshly cracked black pepper
Instructions
Add onions and garlic to skillet with 2-3 tablespoons of oil.

Simmer over medium low heat for 8-10 minutes.

Add chicken livers and pork and turn to medium high heat. Season with salt and pepper and add in thyme and rosemary sprigs.

Chop down the meats roughly to allow them to cook more evenly. Cook until no longer pink inside about 8 minutes.

Deglaze pan with sherry wine and simmer for 1 minute.

Take off heat and add to a food processor.

Puree for 20 seconds until smooth.

Add in 5 tablespoons butter, parsley and scallions. Puree for another 20 seconds until smooth and creamy.

Transfer to a small ramekin dish and seal tightly with plastic wrap. Serve with crostini or a frech baguette.

If adding clarified butter to the top like in photos, keep reading.

Clarified Butter:

Over LOW heat add 5 tablespoons of butter to a small saucepan and melt fully. You will notice a white foam form on top. Use a spoon to skim it off the top.

Spoon a tablespoon or two of the butter over top of each ramekin. Add fresh thyme leaves to garnish. Chill until ready to serve.
Recipe Notes
You do not need to add the clarified butter to the top of your pate however it will double the shelflife of the pate. It also looks more appealing!
If you wish to use JUST chicken livers instead of the sausage, just double the amount.
The fresh herbs are a must. I add the parsley and scallions last to keep the flavor fresh.
Feel free to add a teaspoon or two of cognac at the end since it is a common addition in pate.
Nutrition
Calories:
197
kcal
|
Carbohydrates:
1
g
|
Protein:
8
g
|
Fat:
17
g
|
Saturated Fat:
9
g
|
Polyunsaturated Fat:
1
g
|
Monounsaturated Fat:
5
g
|
Trans Fat:
0.5
g
|
Cholesterol:
125
mg
|
Sodium:
264
mg
|
Potassium:
144
mg
|
Fiber:
0.2
g
|
Sugar:
0.4
g
|
Vitamin A:
2899
IU
|
Vitamin C:
6
mg
|
Calcium:
14
mg
|
Iron:
2
mg