Pool parties are a fantastic way to enjoy the warm weather while spending time with friends and family. But swimming doesn't need the be the only thing you do. Why not offer up some fun games to play IN the pool?Pool
From classic water games to creative new challenges, there is no shortage of options to keep everyone entertained and engaged.
One popular approach to planning a pool party is to choose games that cater to all ages and swimming abilities. This ensures everyone can participate and have fun, creating an inclusive and enjoyable atmosphere.
Some pool party classics include water pistol fights, belly flop contests, and pool noodle relays. These games can be played in teams or as individuals, and they often result in friendly competition and laughter among partygoers.
As the host of a pool party, you can also explore unique and inventive ideas to make your event stand out. In an underwater treasure hunt, you could have guests dive into the pool to retrieve glow sticks!
Incorporating a mix of classic and unconventional games will ensure your pool party is a memorable and enjoyable experience for everyone involved.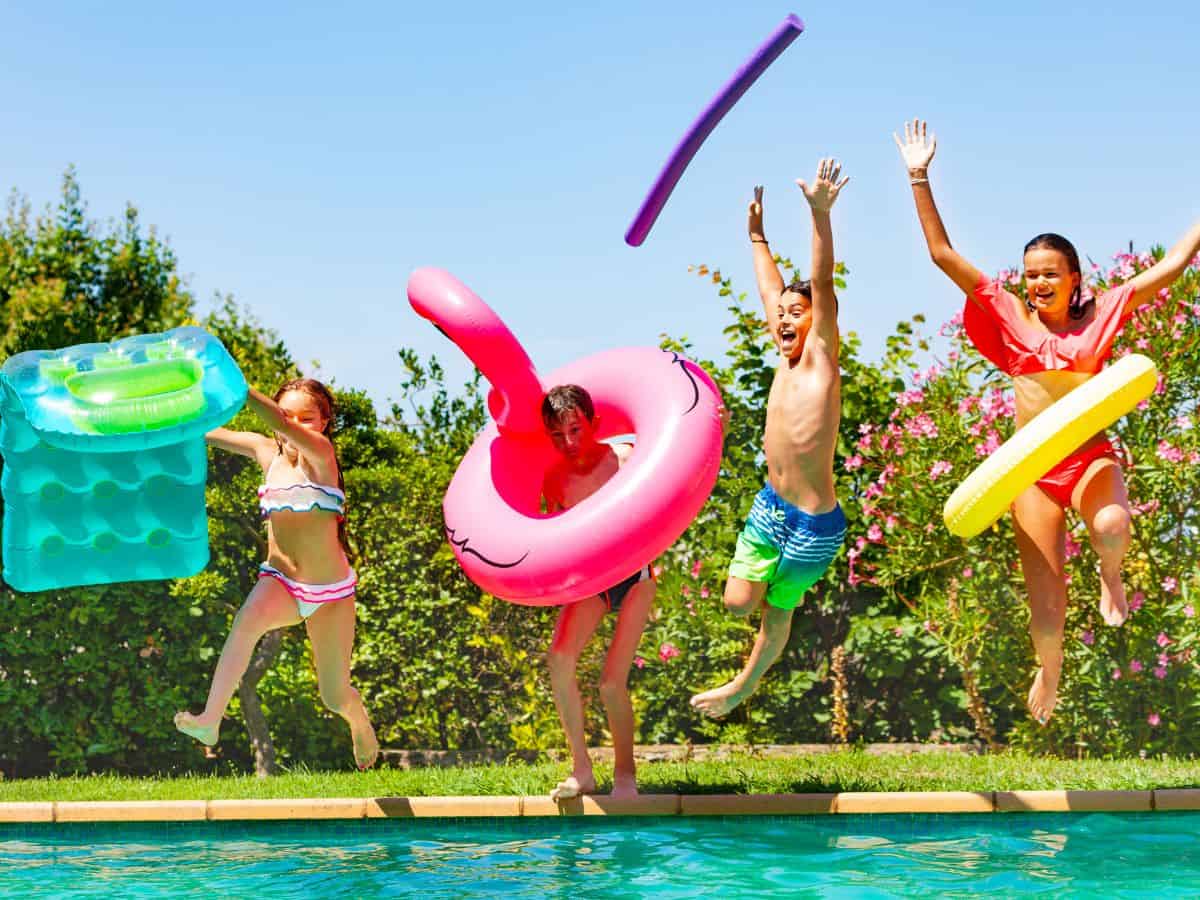 Pool Party Essentials
A successful pool party requires a combination of fun and engaging activities, as well as appropriate safety measures. Consider incorporating some of these essentials into your swimming pool celebration to create a memorable event that guests of all ages will enjoy.
To start, providing a variety of pool games for guests will ensure non-stop entertainment. Classics like water pistol fights and beach ball volleyball are ideal for all participants.
For a more engaging activity, inflatable versions of land games like tic-tac-toe or ring toss can make a splash and are also available on Amazon!
Another must-have for any pool party is an assortment of cool pool toys. Inflatable swan, flamingo, and unicorn floats are trendy and perfect for striking a pose and capturing Instagram-worthy moments. Additionally, these toys offer a fun way for guests to relax and float around the pool.
Besides games and toys, prioritizing safety during pool parties is critical. Establishing clear rules for guests to follow, such as no running or roughhousing near the water, can help prevent accidents.
Keep a close eye on younger guests and ensure that everyone in the pool knows how to swim or has appropriate flotation devices. Designate an area for non-swimmers or children to play in and have adult supervision at all times.
Another way to enhance your pool party atmosphere is by adding comfortable and stylish pool floats and seats. Deluxe pool noodles, resort-style pool floats, and lazy day pool seats offer an upgraded and luxurious experience for guests to enjoy as they lounge in the water.
Incorporating these essentials will ensure that your pool party offers guests an enjoyable and safe environment. With a mix of exciting games, trendy pool toys, and a focus on safety, your swimming pool event will surely be a hit.
Classic Pool Games
Marco Polo
Marco Polo is a timeless pool game that has been enjoyed by generations. One player is designated as "it" and closes their eyes while the other players try to avoid being caught.
The player who is "it" shouts "Marco!" and listens for the other players to respond with "Polo." Using this auditory cue, the " it " player attempts to tag the other players, switching roles once someone is caught.
This game is excellent for all ages and requires no additional equipment, making it a staple for any pool party.
Ping Pong
Adding a game of ping pong to your pool party can be a fun and unique twist. Fill the pool with ping pong balls and have players compete to see who can collect the most in a designated time frame.
Players can scoop up the pong balls with their hands or use pool skimmers for an added challenge. Alternatively, you can have players try to toss the ping pong balls into floating containers from a distance.
This game is ideal for larger groups and encourages friendly competition.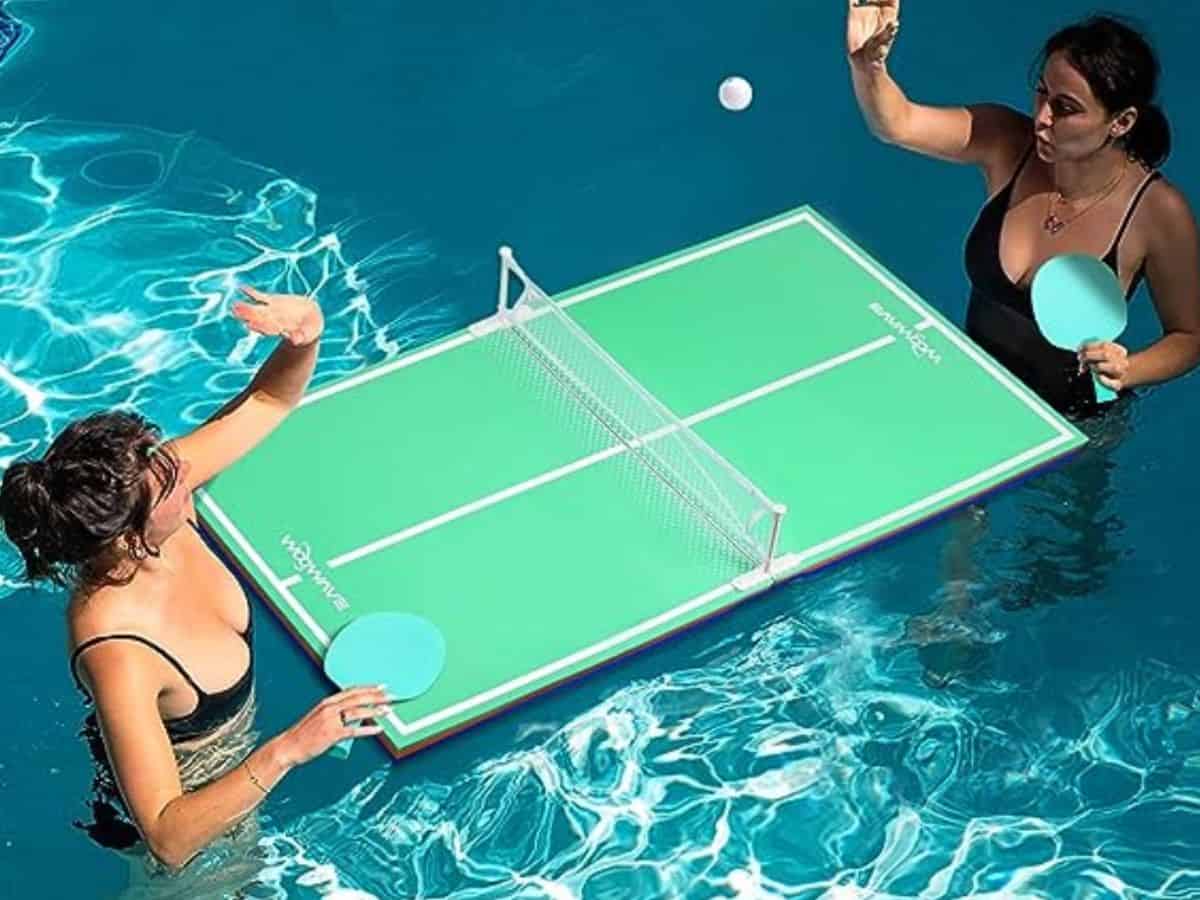 Beach Ball Relay
The Beach Ball Relay is an energetic game that involves teamwork and coordination. Divide your guests into two or more teams and provide each team with a beach ball.
The objective is for each team to pass the beach ball from one end of the pool to the other without using their hands. Team members can use their heads, shoulders, or back to move the ball across the pool.
The first team to successfully transfer their beach ball from one side to the other wins. This game is perfect for guests looking to showcase their creativity and agility while fostering teamwork and communication.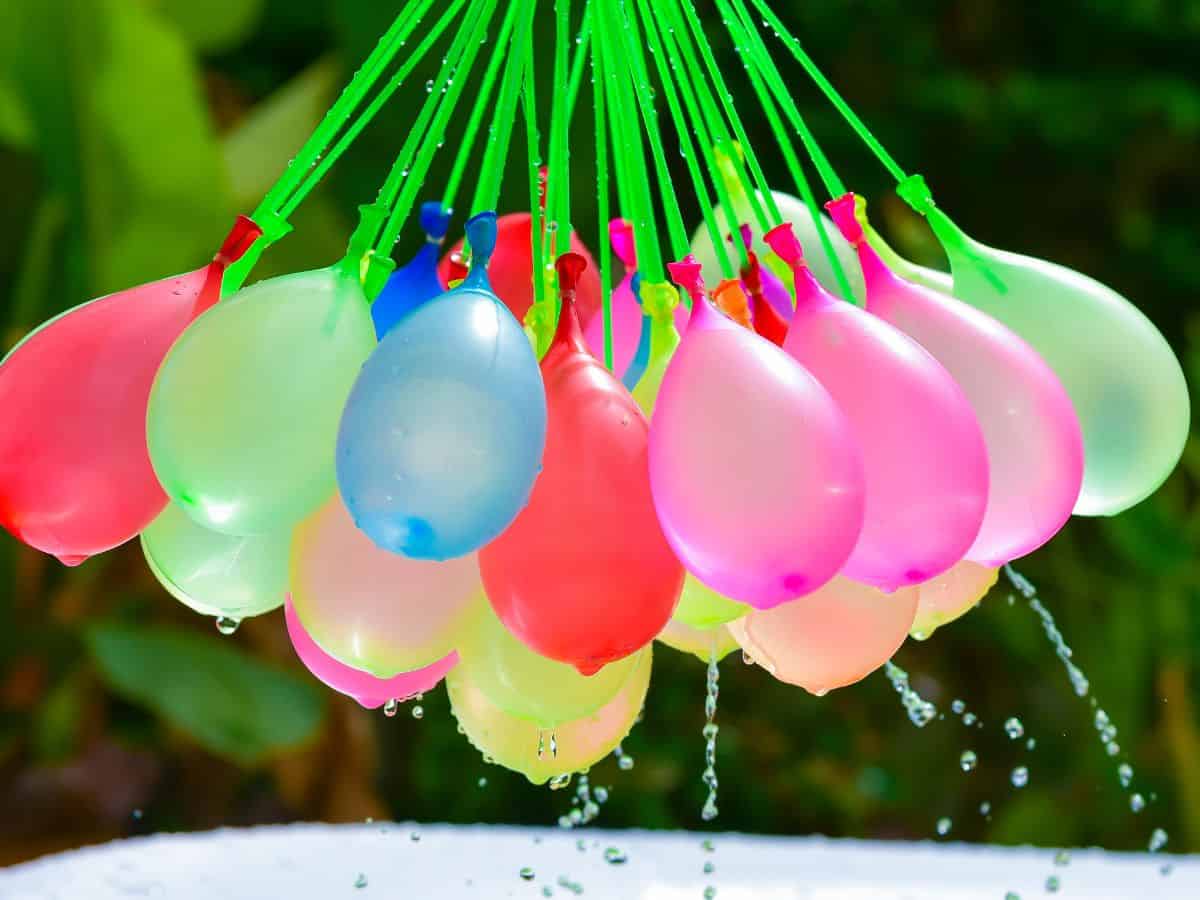 Water Balloon Games
Water balloon games are a fantastic addition to any pool party. They provide a fun and exciting way to cool off and engage with friends and family. This section will discuss three popular water balloon games: Water Balloon Toss, Water Balloon Dodgeball, and Water Balloon Relay.
Water Balloon Toss
The Water Balloon Toss is a classic game, perfect for all ages. Participants form pairs and stand facing each other at a short distance to play. Each pair is then given a water-filled balloon. The game's objective is to toss the balloon back and forth between teammates without letting it burst.
Players can take a step back after each successful toss to make the game more challenging, increasing the distance between each other.
If the balloon bursts, the pair is out of the game. The last team with an intact balloon wins. This game helps improve hand-eye coordination and teamwork while providing a refreshing splash on a hot day.
Water Balloon Dodgeball
Water Balloon Dodgeball puts a fun twist on the classic dodgeball game. Instead of using rubber balls, players hurl water balloons at one another.
To play, divide the group into two teams and designate a playing area with clear boundaries. Each team starts on opposite sides of the area with a pile of water balloons.
The objective is to eliminate players from the opposing team by hitting them with a water balloon. However, if a player catches a balloon thrown by the opposing team, the thrower is out.
This game is an exciting way of engaging in friendly competition and staying cool during a pool party.
Water Balloon Relay
Water Balloon Relay is a high-energy game that requires teamwork and speed. To play this game, divide the group into two or more teams and arrange them in parallel lines. Each team is given a water balloon and a spoon.
The first player of each team holds the spoon with the water balloon placed on it and must race to a designated point and back without dropping the balloon.
Once they return, they must pass the balloon (still on the spoon) to the next teammate, who proceeds to do the same. The first team to complete this relay without dropping or bursting any balloons wins.
In conclusion, these water balloon games are perfect for adding excitement and friendly competition to any pool party. They are suitable for all ages, easy to set up and provide a fun way to stay cool on a hot day.
Fun with Pool Noodles
Pool noodles are a versatile and affordable addition to any pool party. They can be used for a variety of games that are fun for all ages. This section will introduce two popular pool noodle games: Pool Noodle Hockey and Pool Noodle Jousting.
Pool Noodle Hockey
Pool Noodle Hockey is a water-based adaptation of the classic game of hockey. To play this game, you will need:
Pool noodles (one per player)
A floating ball or another water-friendly object to serve as the "puck."
Instructions:
Divide players into two teams.
Players will use their pool noodles as hockey sticks to hit the floating ball.
Establish boundaries within the pool area to serve as the goals for each team.
The game's objective is to score goals by hitting the ball into the opposing team's goal area using only the pool noodles.
This exciting game is perfect for kids and adults alike and promotes teamwork, coordination, and friendly competition.
Pool Noodle Jousting
For a more action-packed game, try Pool Noodle Jousting. This game requires:
Pool noodles (one per player)
Inflatable floats or "rafts" for each player (optional)
A designated play area within the pool
Instructions:
Divide players into pairs.
Each player holds a pool noodle and, if using an inflatable float, sits or lies on their float.
Opponents face each other within the designated play area and try to knock each other off their floats or designated area using their pool noodles.
The player who remains in their position after the joust is the winner of the round.
Pool Noodle Jousting is a thrilling activity that encourages balance, strategy, and friendly competition.
Both games offer a unique and entertaining way to enjoy pool parties using pool noodles. So gather your friends and family, grab some noodles, and dive into the fun!
Team-based Pool Games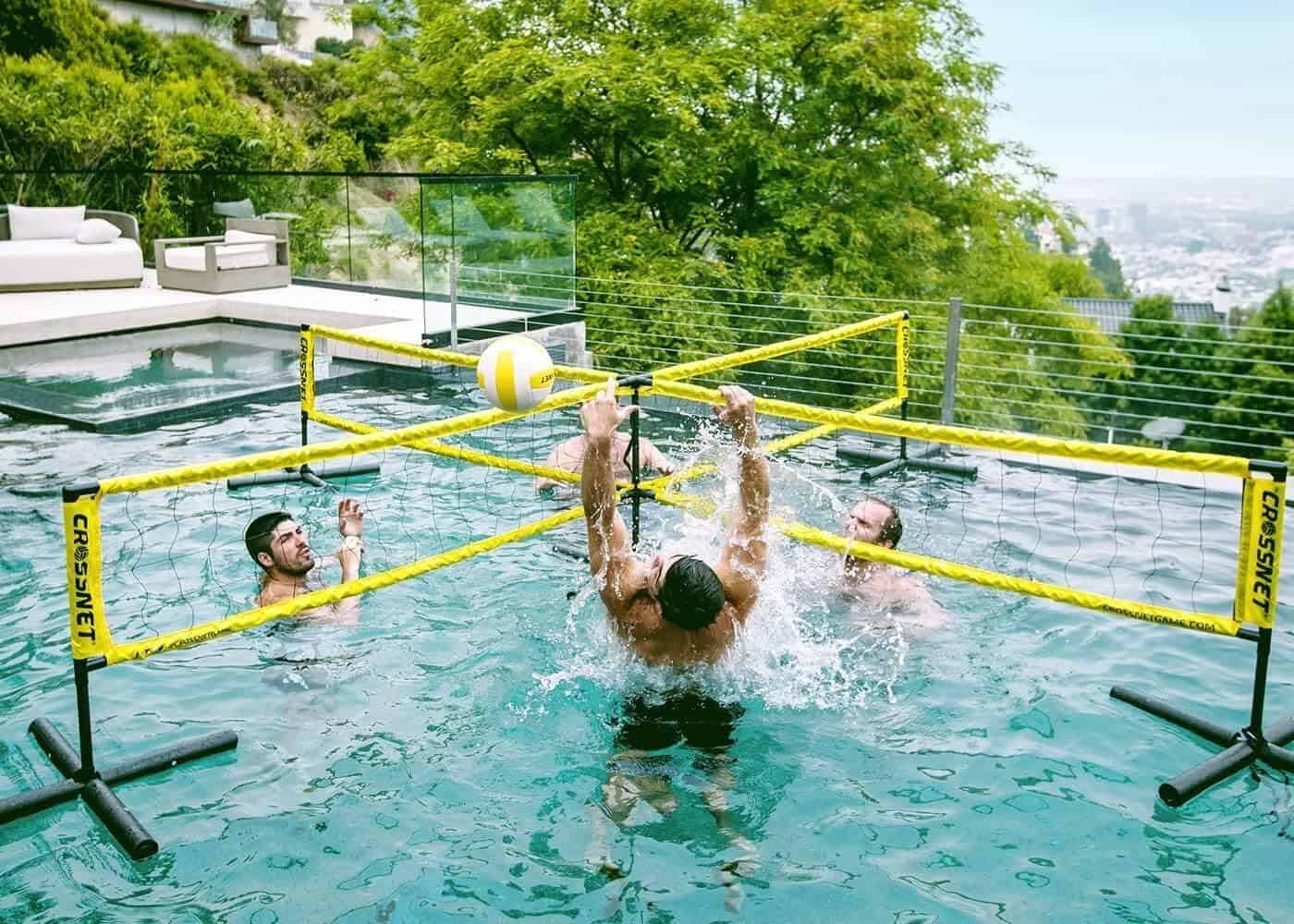 Pool Volleyball
Pool volleyball is a fun and engaging team-based pool game that is perfect for players of all ages. Participants divide into two teams, with each team on one side of the pool.
A standard volleyball or inflatable ball can be used for this game. The objective is to hit the ball over the net and into the opposing team's area.
Teams score points when the ball lands in the water within the other team's area or when the other team fails to return the ball.
The rules for pool volleyball can be adjusted based on the players' preferences. For example, teams may decide that one-touch, two-touch, or three-touch volleys are allowed before the ball must be sent over the net.
Additionally, swimming can be incorporated into the game by requiring players to tread water or swim between hits.
Sharks and Minnows
Sharks and Minnows is a classic team-based swimming game that is ideal for children's pool parties. At the start of the game, one player is designated as the "shark," while the remaining players are the "minnows."
The shark starts at one end of the pool, while the minnows are at the opposite end. The object of the game is for the minnows to swim across the pool without being caught by the shark.
When the shark shouts, "Fishy, fishy, cross my ocean!" the minnows begin swimming to the other side. The shark tries to tag the minnows as they swim, and once a minnow is tagged, they become a shark as well.
The game continues until all minnows have been turned into sharks. Parents or lifeguards can serve as referees to monitor the game and ensure safety.
These team-based pool games bring excitement, friendly competition, and physical activity to any pool party. With both pool volleyball and sharks and minnows, players can work together as teams, practice their swimming skills, and enjoy the refreshing waters.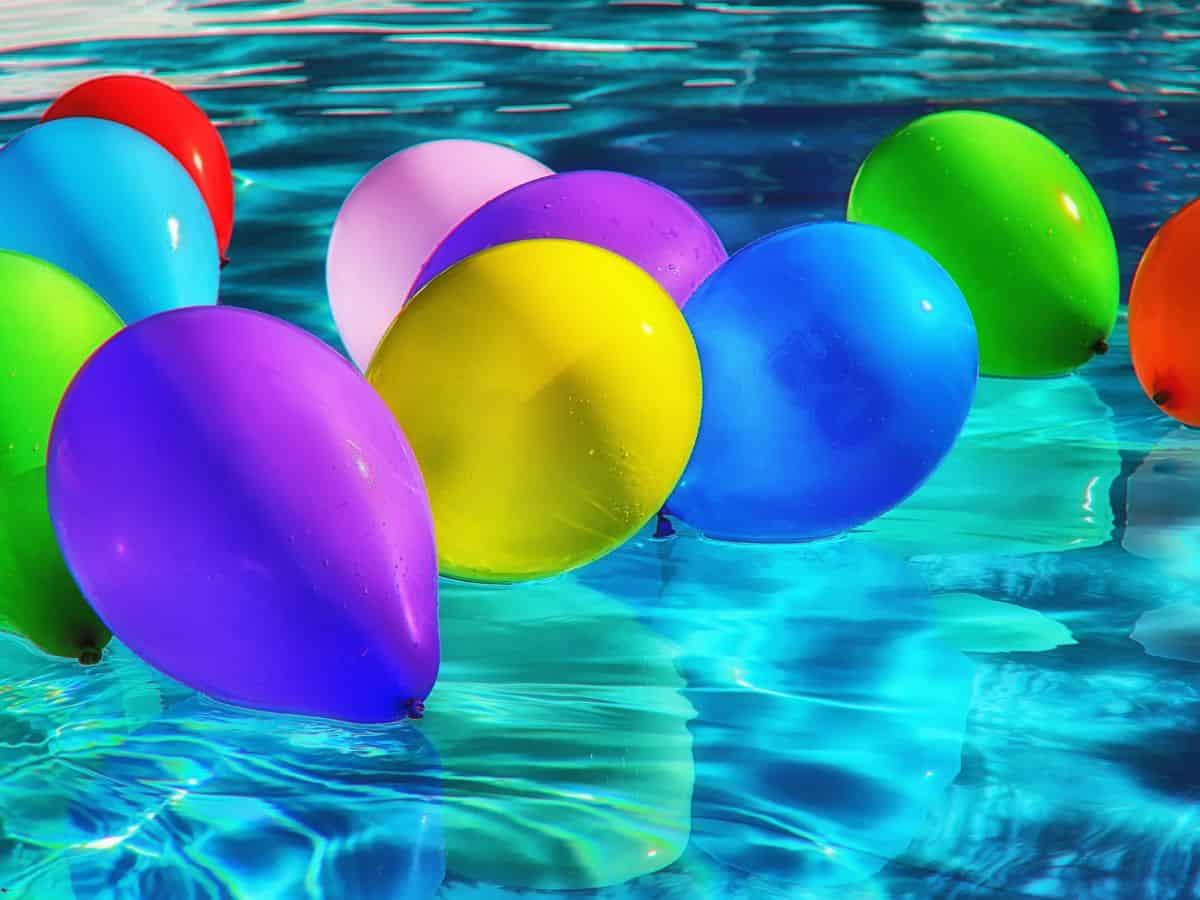 Unique Pool Party Ideas
Pool parties are a fantastic way to enjoy quality time with friends and family during the warm summer months. Consider incorporating some unique pool party games and ideas to make your pool party even more memorable. This will add an extra level of fun and excitement to the event.
You can also introduce more creative pool party ideas beyond traditional pool games.
For instance, you could hold a Bubba Keg tasting challenge, where guests create unique fruit juice concoctions, and others attempt to guess the dominant flavor.
This simple yet engaging activity is perfect for people of all ages and allows for some friendly competition.
Another idea is to have a Floatable Movie Night!
Have your guests bring a floatie or provide them. Then rent or purchase a movie projector with a screen and play a fun movie for everyone to watch while they're floating the night away!
In addition to games, it's essential to consider other pool party ideas, such as decorations, themes, and even fun pool floats. Themed pool parties can be a huge hit, particularly for birthday celebrations.
Themes can range from tropical getaways to movie-inspired events, and they provide an excellent framework for choosing matching decorations, snacks, and activities.
Lastly, don't forget the importance of comfortable and versatile seating around the pool area. Inflatable furniture, colorful beach towels, and pool floats in various shapes and sizes can add both functionality and visual interest to your pool party.
Offering guests a welcoming place to lounge and relax helps create a space where friends and family can enjoy each other's company amidst all the water-based fun.
Incorporating unique pool party games and ideas into your event guarantees a memorable and enjoyable experience for everyone involved. Drawing inspiration from various sources and tailoring activities to your guests' preferences ensures that your pool party is one to remember.
Frequently Asked Questions
Which inflatable games are best for pool parties?
Inflatable games can add excitement and a playful element to pool parties. Some popular inflatable games include floating basketball hoops and inflatable water volleyball sets. These games provide a fun and engaging way for guests to interact and compete with one another in the pool.
What are some swimming pool activities or games for grown-ups?
Swimming pool activities for adults can range from relaxed to competitive. Some popular ones that require minimal effort are cards. These playing cards are water proof so you can play near or even IN the pool! Otherwise, maybe pull up a chair and play one of these board games on the side for a larger group!
How to make a pool party engaging and fun?
A successful pool party should offer a variety of activities to keep guests entertained. Examples include organizing themed games, providing an array of pool floats and inflatables, and setting up areas for both relaxation and mingling.
Additionally, consider having a curated playlist of upbeat music, offering tasty snacks and refreshments, and providing ample seating areas for those who wish to take a break from the water.
What creative ideas can enhance a pool party experience?
Consider incorporating unique and creative elements to make your pool party stand out. This might involve using floating lanterns or glow sticks for a nighttime pool party, setting up a DIY cocktail bar or mocktail bar, or organizing a "make-your-own" sunscreen station with various scented oils and SPF levels.
Another idea is to offer themed pool party games, such as treasure hunts or an obstacle course using pool noodles and floats.
Other Party Ideas You May Like: