These Baked Greek Feta Fries take french fries to another level. Fluffy, crispy potatoes smothered a creamy feta cheese yogurt sauce, you will be left licking EVERY finger clean. Trust me.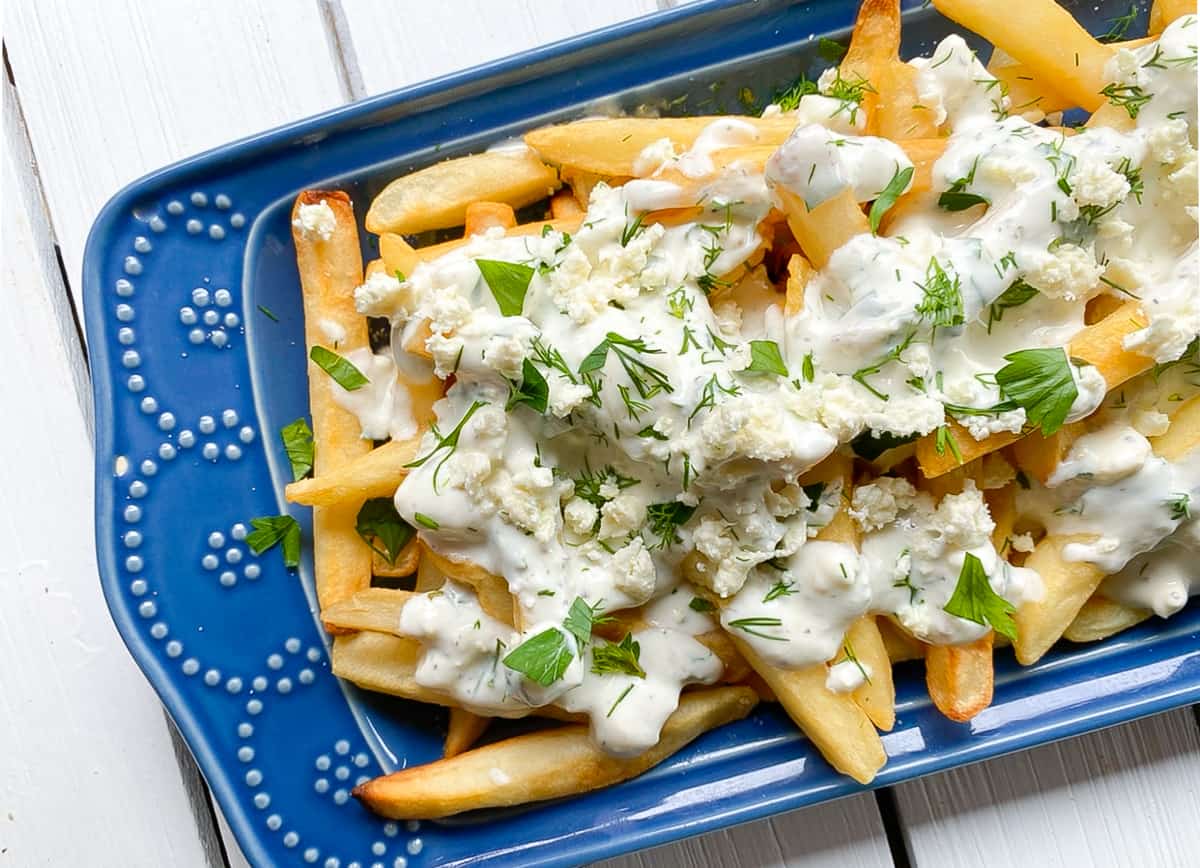 Did you know that french fries are served ALL over Greece as a side dish and appetizer. They even squeeze them INSIDE of gyro's (a Greek pita sandwich).
Two other appetizers that are also on every table are feta cheese and tzatziki sauce. The best meze dishes! So I thought, why not combined all THREE of those delicious Greek appetizers into one heaping pile of deliciousness?
The best Greek appetizers married into one!
Greek French Fries
Feta Cheese
Tzatziki Sauce
"Greek french fries" are usually made with freshly squeezed lemon juice and lots of oregano on top. So why not add some salty feta cheese and a creamy lemony yogurt sauce over top?! Top with freshly chopped herbs and you've got a delicious appetizer that will please everyone.
Also make sure to check out my Avocado Fry recipe!
Choosing the right french fries
Choosing the right type of fries is important. Too thin, and the sauce will weigh down your fries. Too flimsy, and the fry will not be able to hold up to the sauce.
If you love smothered fries, you have to try my Disco Fries!
Ideally, you want to opt for a thicker french fry. One that will hold it's form even with feta and yogurt piled on top! You can make my homemade potato wedges which would be delicious underneath the sauce!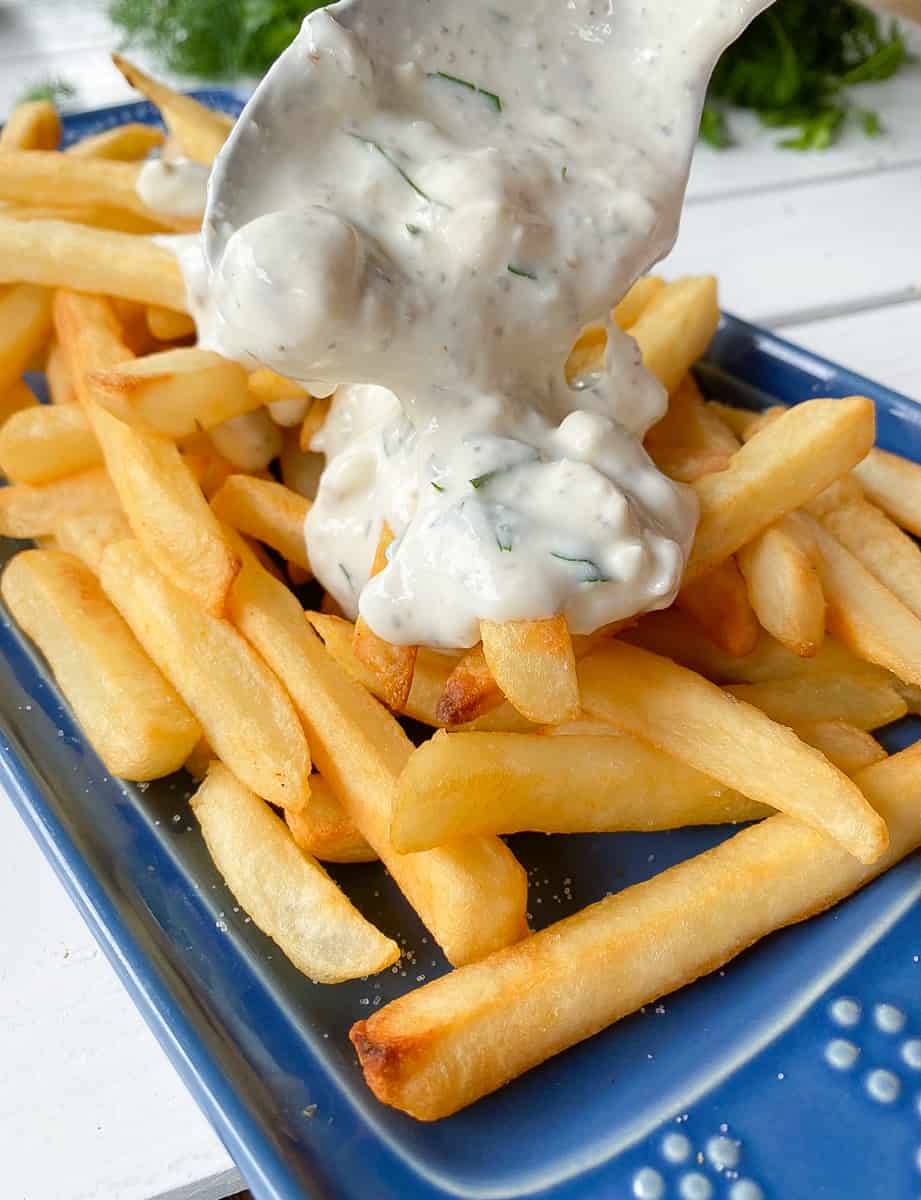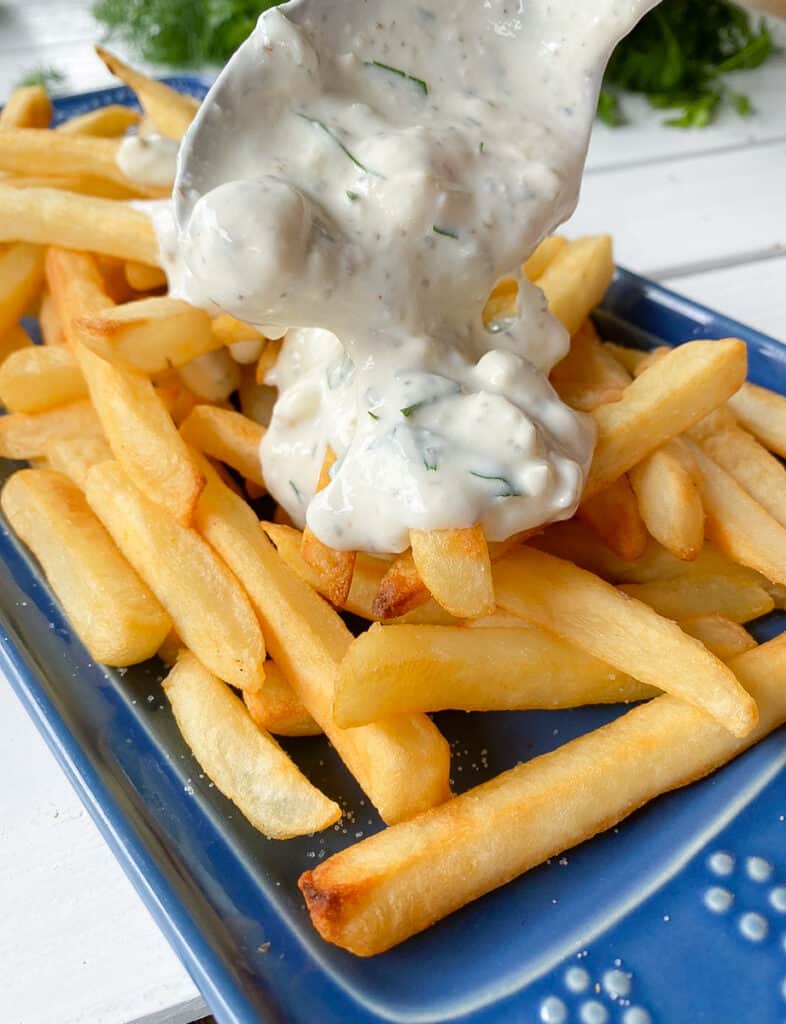 Feta "Tzatziki" Sauce
This feta yogurt sauce SO delicious. I call it "tzatziki" but it does not have cucumbers in it so it technically is NOT tzatziki sauce. But it does have freshly squeezed lemon juice (like on those traditional Greek fries I mentioned above), lots of minced garlic, and of course, fresh herbs.
I also added some sour cream to the sauce because it adds more tang and is SO delicious paired with the yogurt.
Because feta cheese is often the dry side and does not melt as well as other cheeses, I mixed it in with some Greek yogurt so the cheese will stick to your fries. Then, I added MORE crumbled feta over top so everyone can actually SEE the feta.
Make sure to check out this article on potato appetizer ideas!
Variations:
If you wish, you can change up your Greek fries any way you wish! Here are some suggestions!
Add other herbs like oregano or thyme
Use different french fry cuts (but stick to thicker fries)
Add some spices like onion powder, chili powder or paprika
Add the feta to your fries first and melt it under the broiler
Add pieces of gyro meat over your fries to make 'GYRO FRIES'!!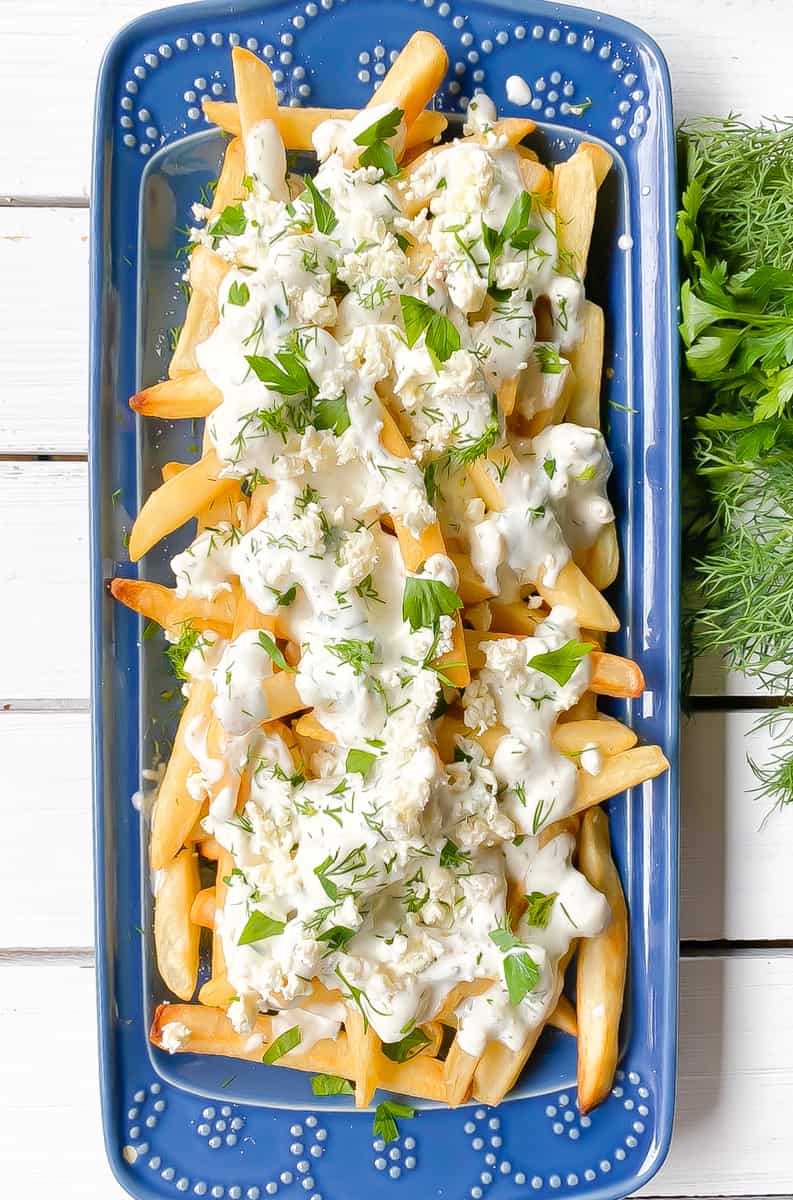 Other Greek appetizers you might like:
Easy Spanakopita Triangles (Mini Greek Spinach Pies)
Baked Greek Shrimp Saganaki with Feta and Ouzo
The Ultimate Greek Meze Platter
Greek Spicy Feta Cheese Dip (Tirokafteri)
Greek Potato and Garlic Dip (Skordalia)
Melitzanosalata (Greek Roasted Eggplant Dip)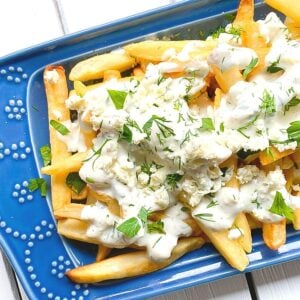 Greek Feta Cheese Fries (w/ Yogurt Sauce)
These Baked Greek Feta Fries take french fries to another level. Fluffy, crispy potatoes smothered a creamy feta cheese yogurt sauce, you will be left licking EVERY finger clean. Trust me.
Print
Pin
Rate
Ingredients
32

oz

french fries

((I used the pre-cut, frozen))
Feta Yogurt Sauce
4

oz.

feta cheese, crumbled

1

cup

plain yogurt

½

cup

sour cream

1

large

garlic clove, minced

2

tablespoon

freshly squeezed lemon juice

1

tablespoon

freshly chopped parsley

1

tbsp

freshly chopped dill

1

teaspoon

dried oregano

salt to taste*
Instructions
Bake your french fries according to directions but on the longer end time-wise. (You want your fries to be brown and extra crispy so they do not become soggy under the sauce.)

While your fries are in the oven, make your feta yogurt sauce by combining all your ingredients in a medium bowl. Set aside. The longer it sits, the tastier it will be!

*This can be done hours or even the day prior.

When your fries are ready, remove them from the oven and salt them immediately so it sticks to the fries. (Salt to your liking.)

Lay them onto a serving platter or a very large bowl and using a spoon or ladel, drizzle your feta yogurt sauce over your french fries.

Garnish with more herbs and crumbled feta on top if you desire.
Recipe Notes
Tips for the best feta fries:
Purchase the BEST fries you can find that are THICK cut
Use fresh dill and parsley
Use a good quality feta
Serve right away so your fries do not get soggy